What can you enjoy before you finish your days in year 2010? For me, thanks to
Advertlets
, I had the opportunity to watch Muay Thai kickboxing at Telekom Museum.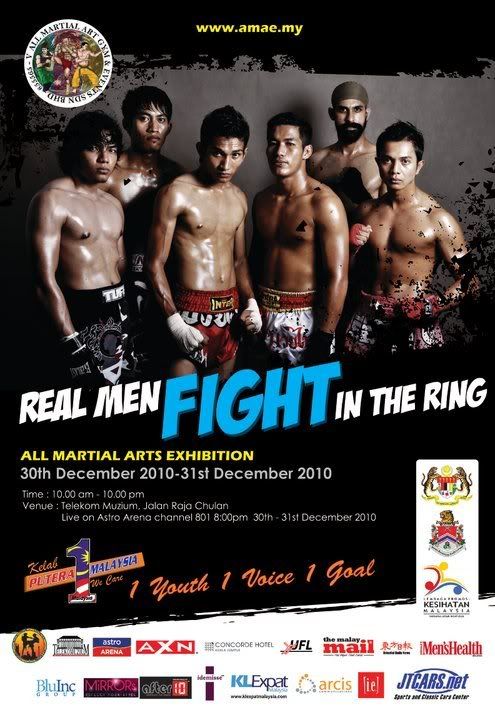 All Martial Arts Exhibition, AMAE aimed to promote benefits of practising martial arts to individual and society in regards to self-discipline, confidence, health, mutual respect, patience. One of the main objectives of AMAE is to cultivate interest in the practice of martial arts in youth and adults.
This Fight Night was a LIVE event broadcasted on Astro ARENA channel featuring the best of Malaysian and international Muay Thai kickboxers. This was my first time watching a boxing event as my entertainment!
Our Minister of Youth and Sports Dato' Sri Ahmad Shabery Cheek came to officiate the Fight Night. He was flattered
(terharu)
for being called the
architect of our victory in AFF Suzuki Cup
lool. Of course, he praised all Malaysians for their joint effort to usher the victory for our soccer team!
Muay Thai
is the national sport of Thailand. It's name refers to the "Art of Eight Limbs" or the "Science Of Eight Limbs" making use of punches, kicks, elbows and knee strikes.
Let the rumble begin!
The first night of the event had four matches in which Malaysians were pitted against international opponents from Iran and Thailand. Each match consists of 3x3 minute rounds.
A coach shouted
"thip! thip!"
to his contestant during the match. It's a Thai word for "foot thrust".
Matches were darn interesting! We shouted, cheered and gave support for our kickboxers. Their skills are amazing! Crowds were on high that night.
After the matches, contestants receive a medal for the job well done!
Of course not forgetting to camwhore with fellow bloggers:
Jason Ong @
Mynjayz
.
Meeting
Ariel Chong
and
Yi Ching
for the first time.
Also present were
Josh Lim
,
Rebecca Saw
@ thenomadGourmand and
Feeq
.
Happy
New
Year
2011
readers
!