Bersih2.0 rally in Melbourne.
Chanted "We want
free and fair elections
and we want it
NOW!
. Not later. Don't need to wait for the coming general election. Clean up the election machinery now.
The organiser also updated us with events in Kuala Lumpur. By the time, 600+ arrests were made. We responded
"SHAME!"
Photo credits: Ryan Lye
Photo credits: Hon Ru Jiunn
The rally in Melbourne went smoothly. Attendance estimated to be 2000+. But I was constantly reading tweets to update myself back home, in Kuala Lumpur.
Our friends in Kuala Lumpur did not have the privilege of a peaceful rally. All violence were from the police. Downtown KL was turned into a war zone.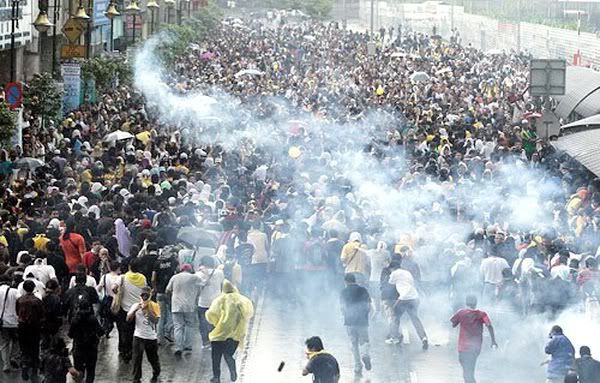 Water cannon fired into hospital compounds. Wait, it's a maternity hospital. The last thing you want is newborns suffered effects chemicals. Inhumane and unacceptable.
It's
UMNO-BN
who's behind all these police brutality during Bersih2.0 rally. Police is just one of the government machinery which the ruling party can use. They've forgotten that they're the very people who put them into power.
The heart of the capital was locked down. Massive traffic jams outside the city. Selected rail stations were closed to prevent protesters entering Merdeka Stadium. Tourists were wondering why shops were not open. Economic losses on that day estimated to be RM 1 billion.