I have known
RED People
as a teen idol group by
Namewee 黄明志
since debut. An opportunity came to meet them in person so I drove to
SS2 Mall
in Petaling Jaya. It was two days before the event the members posted on Instagram about it lolz.
When I arrived I saw no sign of preparation so I thought to myself, did I come to the wrong place? If I did, then
paiseh
lor. I made my way to Hometown Coffee to take a break, and there I bumped into
Ong Kian Ming
, Member of Parliament for Serdang.
When staff members came to set up the stage, I didn't think twice about buying their set of album, T-shirt and calendar because getting them signed is worth it!
RED People finally appeared on stage. Yay moment!
As part of the showcase/fan meet they played interactive games with fans. I entered the first game and got partnered with
Charles Tee @ Dato Sai
.
The first game was getting blindfolded and feeding the celebrity Mandarin oranges. At first I was reluctant to do the dirty job of feeding Dato Sai hahahaha! I should be fed instead.
Dato Sai assured me he is an easy guy to work with so I just did as instructed. When the time started I just opened the oranges like crazy! I didn't care about the mess I was about the create.
MC
Crystal
announced that I won the game! I went up stage to have an opportunity of interacting with my stars and never thought about winning. That was a big bonus because I came! Totally didn't regret playing the game.
My area was filled with orange juice after I finished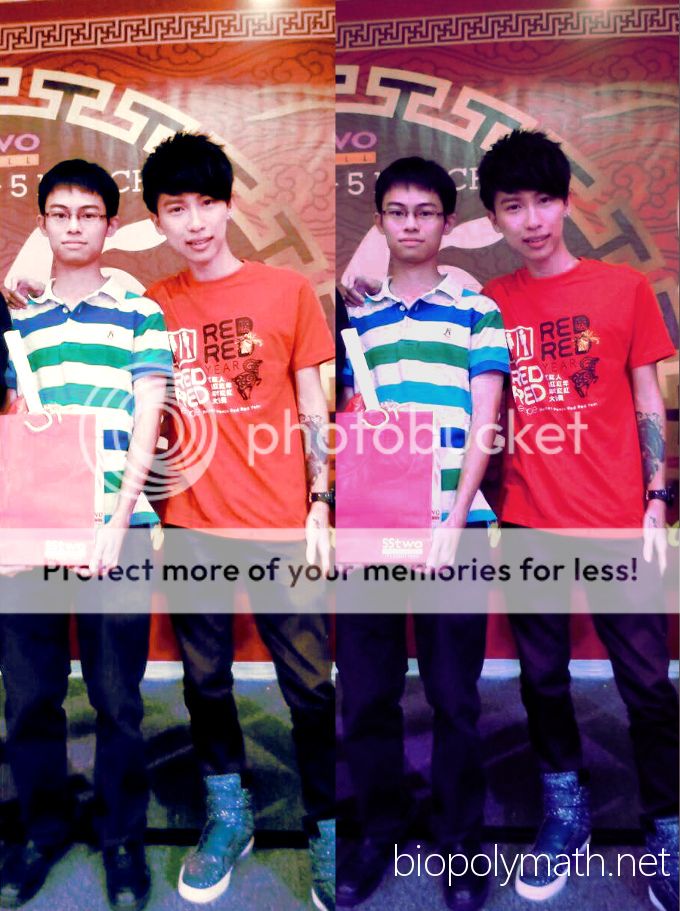 Big thanks to my partner Charles Tee who helped me won the game.
The privilege of the first winner was posing with all RED People on stage!
RED People had more games with fans and performances of tracks from their
RED RED Year 红红年
album. And yeah, the video for the tracks has yet to be released on Youtube so we were among the first to heard of their title track "
七洞强
".
The time has come for fan sign!! I got two of my posters (one bought, one won) signed by the members and of course, must take picture
lah
!
This is
Charles Tee @ Dato Sai
!
Hello
Joyce Chu 四葉草
@thecloverjoys
! She's so beautiful and popular. She's the tallest member of the group standing at 168 cm
this is how tall A Pink's Son Na Eun/Oh Ha Young is
Hello
Stella Chen
stellavella
, every guys' goddess :)
Yours truly has an attention for detail so I checked the number of signatures obtained. I realised two of the members weren't at the event!
I never thought I'd be so lucky that day but my fun didn't end there because the next day is my
test drive with Jane Chuck
.